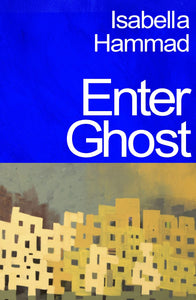 Enter Ghost
After years away from her family's homeland, and reeling from a disastrous love affair, actress Sonia Nasir returns to Haifa to visit her older sister Haneen. While Haneen made a life here commuting to Tel Aviv to teach at the university, Sonia remained in London to focus on her acting career and now dissolute marriage. On her return, she finds her relationship to Palestine is fragile, both bone-deep and new.

When Sonia meets the charismatic and candid Mariam, a local director, she joins a production of Hamlet in the West Bank. Soon, Sonia is rehearsing Gertrude's lines in classical Arabic with a dedicated group of men who, in spite of competing egos and priorities, all want to bring Shakespeare to that side of the wall. As opening night draws closer and the warring intensifies, it becomes clear just how many obstacles stand before the troupe. Amidst it all, the life Sonia once knew starts to give way to the daunting, exhilarating possibility of finding a new self in her ancestral home.

Timely, thoughtful, and passionate, Isabella Hammad's highly anticipated second novel is an exquisite story of the connection to be found in family and shared resistance.
Reviews

Enter Ghost

 
is a novel to savour
 rather than steam through - not least because it feels
 

completely different to anything else being written right now in English,
 a heartfelt meditation on the relationship between art and politics. ― 
Sunday Times
A powerful new novel... Hammad is a pretty flawless writer
 who, despite her harrowing and often intellectually complex subject matter, produces easily readable, human, generous work. ― 
The Times
Beautifully written, poignant yet forceful, thoughtful and thought provoking, but above all challenging
 the reader to respond to the question facing the characters in the novel: how to live under occupation while preserving your dignity and humanity? Hammad answers this question through taking us into the hearts and minds of the characters in the novel and through that into the heart and mind of Palestine. -- Azar Nafisi, author of Reading Lolita in Tehran


Enter Ghost
 is a masterful, deeply convincing portrait of the all-too-real consequences of political theater - in both senses. 
A moving and important novel that presses upon the urgent question of how we ought to live in the midst of the rubble (and ongoing chaos) of political crisis
. -- Namwali Serpell, author of The Old Drift


A magnificent, deeply imagined story
... a thought-provoking, engrossing story about the connections to be found in art, politics and family life. ― 
Sunday Times


Outstanding. 
Next-level
. Aesthetically, intellectually, emotionally and culturally satisfying. It is astonishing but true that 
Isabella Hammad is incapable of striking a false note
. She immerses her heroine in volatile territory with the accuracy, compassion and coolness of a surgical knife sliding into a diseased body. 
The result is a stunning beauty - an eye-opening, uplifting novel
 that grants its vulnerable cast and their endeavors a rare and graceful dignity. -- Leila Aboulela, author of Minaret


A richly layered novel...
 [Hammad] takes her time, writing with an elegant, confident poise and accumulation of detail this is refreshingly unfashionable. ― 
Observer
A stirring novel

 
and a tribute to those Palestinians who have attempted, and attempt, to make art despite the forces ranged against them. ― 
Times Literary Supplement
Powerful...

 
Enter Ghost
 

is a remarkable work
 by a novelist who writes about Palestinians with the same love and exasperation that one might feel towards one's family. ― 
Literary Review
[A] soul-stirring and dramatic tale

 
of a Palestinian family's exile and reconciliation ... The layered text, rich in languages and literary references, dives deep into Sonia's consciousness, illustrating her hopes for what art can accomplish. 
This deeply human work will stay with readers
. ― 
Publishers Weekly, *Starred Review*
About the Author
Isabella Hammad
 is the author of 
The Parisian.

 
She was awarded the Plimpton Prize for Fiction, the Sue Kaufman Prize from the American Academy of Arts and Letters, the Palestine Book Award and a Betty Trask Award. She has received fellowships from MacDowell, the Rockefeller Foundation and the Lannan Foundation. In 2023, she was on
 

Granta
's once-in-a-decade Best Young British Novelists list.
---
We Also Recommend