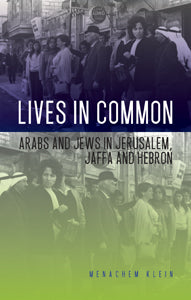 Lives in Common: Arabs and Jews in Jerusalem, Jaffa and Hebron
15000 NIS

150.00 NIS

Save 10 NIS
---
---
Most books dealing with the Israeli–Palestinian conflict see events through the eyes of policy-makers, generals or diplomats. Menachem Klein offers an illuminating alternative by telling the intertwined histories, from street level upwards, of three cities — Jerusalem, Jaffa and Hebron — and their intermingled Jewish, Muslim and Christian inhabitants, from the nineteenth century to the present. Each of them was and still is a mixed city. Jerusalem and Hebron are holy places, while Jaffa till 1948 was Palestine's principal city and main port of entry.
Klein portrays a society in the late Ottoman period in which Jewish-Arab interactions were intense, frequent, and meaningful before the onset of segregation and separation gradually occurred in the Mandate era. The unequal power relations and increasing violence between Jews and Arabs from 1948 onwards are also scrutinised. Throughout, Klein bases his writing not on the official record but rather on a hitherto hidden private world of Jewish-Arab encounters, including marriages and squabbles, kindnesses and cruelties, as set out in dozens of memoirs, diaries, biographies and testimonies.
Lives in Common brings together the voices of Jews and Arabs in a mosaic of fascinating stories, of lived experiences and of the major personalities that shaped them over the last 150 years.
Reviews
'Lives in Common is a work of deeply humane scholarship. It has been criticised by some as an expression of nostalgia for an irretrievable past or wishful thinking about an unattainable future. Yet Klein is neither a hopeless romantic or an ivory tower academic. He helped draw up the Geneva initiative for Israeli-Palestinian peace and, when Israel and the PLO were still negotiating, acted as an adviser to the Palestinian side – a remarkable example of open-minded commitment to a common good.' —  The Guardian 
'Drawing on diaries, memoirs and correspondence, Klein weaves a dazzling tapestry of complicated, sometimes fraught, but always intermingled connections between Jews, Muslims and Christians in Jerusalem, Jaffa and Hebron. Richly detailed and profoundly evocative, Lives in Common adds greatly to our understanding of the Israeli-Palestinian conflict and its human cost.' — Adam LeBor, Haaretz
'Klein has attempted to capture the image of [a] lose world before national polarisation took hold. … this book sows the possibility of a different Middle East in the maelstrom of inter-ethnic conflict.' — History Today
'Lives in Common takes the reader on a fascinating journey through the streets, houses, and squares of Jerusalem, Jaffa and Hebron, and offers an extremely sensitive and engaging historical and contemporary account of Jewish and Arab daily lives and interactions in these mixed cities. Klein's unique focus on bottom-up interactions between Jews and Arabs in their shared urban environment exposes the reader to a new dimension of the complex relations between Jews and Arabs, and sheds fresh light on the existence, evolution and changes in a local form of a joint Palestinian identity, shared by Jews and Arabs alike. This is an exciting and invaluable contribution to a more nuanced look on the complex and dynamic relations between Jews and Arabs in Palestine and Israel.' — Abigail Jacobson, MIT, author of From Empire to Empire: Jerusalem Between Ottoman and British Rule
'A highly sensitive "tale of three cities" which sheds light on often touching Arab and Jewish daily encounters before 1948. Klein is no nostalgic. His is a sober political assessment of a world that cannot be rebuilt, but a world whose civilised dialogues between Arab and Jew must be re-invented if Israel wants to move forward beyond today's political impasse.' — Diana Pinto, historian and author of Israel Has Moved
'This important work by Menachem Klein posits serious challenges to the nationalist historiography of the Arab-Israeli conflict. In particular Klein's rich and detailed investigation into the lives of native Jews in Hebron, Jaffa, and Jerusalem at the turn of the nineteenth century undermines a central assumption held by Zionist discourse about "Arabs and Jews" as exclusive and antagonistic ethnic categories.' — Salim Tamari, Professor of Sociology at Birzeit University, and editor of Jerusalem Quarterly
'Lives in Common tells a previously untold story of Jews and Arabs. Starting in the period immediately prior to the beginning of the current vicious conflict, the book demonstrates how everyday interactions in three key cities forged a common Jewish-Arab identity. Menachem Klein shows how subsequent events all-but destroyed this identity but perhaps left enough of a remnant to warrant a little optimism for the future.' — Joel S. Migdal, Robert F. Philip Professor of International Studies, University of Washington and author of Shifting Sands: The United States in the Middle East
'Taking a new and original approach, Klein draws heavily on the diaries and memoirs of ordinary people, elevating his book beyond the usual leader-based perspectives or histories emanating from official documents.'—Ben Lynfield, The Christian Science Monitor, 2014
'[A] people's account of the changes that came about in Palestine from the last decades of the Ottoman Empire until the creation of the State of Israel in 1948. … he stories, taken from primary source material such as diaries, newspapers, memoirs and letters, as well as from secondary materials, fill the book with vivid imagery. They capture the voices, smells and sounds of a former world, written joyously and imbued with a sense of wonderment. … Klein's sensitivity and concern is critical when put in the context of the fascistic-nationalistic trends on the rise around him.' — The Electronic Intifada
'…a profoundly important and courageous book … Here is a gifted and diligent scholar with a very strong sense of social purpose – to use his learning about the past to promote the cause of peace and understanding in the present.' — leadersquest.org
---
We Also Recommend