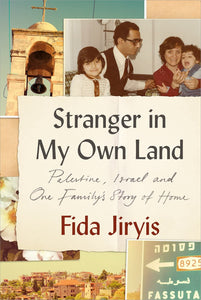 Stranger in My Own Land, Palestine, Israel and One Family's Story of Home
15000 NIS

150.00 NIS

Save 30 NIS
---
---
After the 1993 Oslo Accords, a handful of Palestinians were allowed to return to their hometowns in Israel. Fida Jiryis and her family were among them.
This beautifully written memoir tells the story of their journey, which is also the story of Palestine, from the Nakba to the present—a seventy-five-year tale of conflict, exodus, occupation, return and search for belonging, seen through the eyes of one writer and her family. Jiryis reveals how her father, Sabri, a PLO leader and advisor to Yasser Arafat, chose exile in 1970 because of his work. Her own childhood in Beirut was shaped by regional tensions, the Lebanese Civil War and the 1982 Israeli invasion, which led to her mother's death. Thirteen years later, the family made an unexpected return to Fassouta, their village of origin in the Galilee. But Fida, twenty-two years old and full of love for her country, had no idea what she was getting into.
Stranger in My Own Land chronicles a desperate, at times surreal, search for a homeland between the Galilee, the West Bank and the diaspora, asking difficult questions about what the right of return would mean for the millions of Palestinians waiting to come 'home'.
Reviews
'All my life, my exiled parents had told me about the tragedy of Palestine. Then, when I was in my early 20s, my family moved back – and I saw it with my own eyes.' – read an extract from Stranger in My Own Land in The Guardian
'This wrenching and inspiring tale of violence and courageous resistance, told through the eyes of a remarkable Palestinian family, vividly portrays a living example of what Adam Smith memorably called "the savage injustice of the Europeans".' — Noam Chomsky
'Fida Jiryis's story, which at times reads like a thriller, has a unique trajectory which she negotiates with intelligence and eloquence, simultaneously illuminating profound and painful subjects about home and belonging.' — Raja Shehadeh, author of Going Home: A Walk Through Fifty Years of Occupation
'This is a beautiful and searing book. The inhuman interrogations, the torment of the vulnerable, the "slow eviction" of an entire people should be understood by all in whose name the impunity of Israel and Zionism is given, year after year. I salute you, Fida Jiryis.' — John Pilger, award-winning journalist, scholar, and documentary filmmaker.
'An impressive account of an important period in Palestine's recent history. Part history, part personal narrative, the author skilfully entwines the details of her life with that of her eminent father, and shows the power of Palestinians writing about their own lived experience. Highly recommended.' — Ghada Karmi, author of Return: A Palestinian Memoir
'A tale of resilience and incredible courage, this powerful memoir fuses Jiryis's personal recollections with the narrative of her homeland and its people. This is a frank and moving story of humanity and steadfastness, giving real content to the sacred Palestinian right of return.' — Ilan Pappé, Professor of History, University of Exeter, and author of Ten Myths About Israel
'Since 1948, many Palestinians were born and raised in neighboring Arab states; others have lived and studied in the West; some managed to remain in their ancestral villages in Israel; still others have resided in West Bank cities that, since Oslo, are administered by the Palestinian Authority. Fida Jiryis is one of the very few Palestinians who have had all of these experiences and, as such, she is able to narrate her people's diverse modern history from a uniquely personal perspective. Passionate and provocative, Jiryis's is a story of tragic loss, hope and disappointment, homecoming and alienation.' — Jonathan Gribetz, Associate Professor of Near Eastern Studies, Princeton University, and author of Reading Herzl in Beirut: The PLO's Research on Judaism and Israel
'More than just an intimate memoir chronicling the tragedy of Palestinian history, Stranger in My Own Land is a finely detailed rendering of how love of family commingles beautifully and essentially with love of country.' — Moustafa Bayoumi, author, scholar, and Guardian columnist
'Fida Jiryis describes the spiritual damage to herself and her loved ones with ferocious honesty and precision. An essential story and a remarkable achievement.' — Philip Weiss, founder and co-editor of Mondoweiss
'Palestinian steadfastness stands out in this compelling book, in which Fida Jiryis artfully interweaves her family's history with that of her colonised homeland and people. Devoid of demonisation and sloganeering, it is a necessary, sobering testimony to Israel's systemic cruelty.' — Amira Hass, journalist, Haaretz


---
We Also Recommend