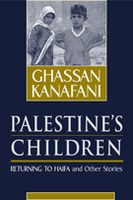 Palestine's Children: Returning to Haifa and Other Stories
9000 NIS

90.00 NIS

Save 10 NIS
---
---
DESCRIPTION
"Politics and the novel," Ghassan Kanafani once said, "are an indivisible case." Fadl al-Naqib reflected that Kanafani "wrote the Palestinian story, then he was written by it." His narratives offer entry into the Palestinian experience of the conflict that has anguished the people of the Middle East for more than a century.
In Palestine's Children, each story involves a child—a child who is victimized by political events and circumstances, but who nevertheless participates in the struggle toward a better future. As in Kanafani's other fiction, these stories explore the need to recover the past—the lost homeland—by action. At the same time, written by a major talent, they have a universal appeal.
This edition includes the translators' contextual introduction and a short biography of the author.
ABOUT THE AUTHOR
Born in Acre (northern Palestine) in 1936, Ghassan Kanafaniwas a prominent spokesman for the Popular Front for the Liberation of Palestine and founding editor of its weekly magazine Al-Hadaf. His novels and short stories have been published in sixteen languages. He was killed in Beirut in 1972 in the explosion of his booby-trapped car.
CONTENTS
Introduction—K.E. Riley and B. Harlow.
The Slope.
Paper from Ramleh.
A Present for the Holiday.
The Child Borrows His Uncle's Gun and Goes East to Safad.
Doctor Qassim Talks to Eva About Mansur Who Has Arrived in Safad.
Abu al-Hassan Ambushes an English Car.
The Child, His Father, and the Gun Go to the Citadel at Jaddin.
The Child Goes to the Camp.
The Child Discovers that the Key Looks Like an Axe.
Suliman's Friend Learns Many Things in One Night.
Hamid Stops Listening to the Uncles' Stories.
Guns in the Camp.
He Was a Child That Day.
Six Eagles and a Child.
Returning to Haifa.
---
We Also Recommend