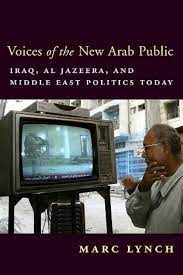 Voices Of The New Arab Public: Iraq, Al-Jazeera, And Middle East Politics Today
Marc Lynch draws on interviews conducted in the Middle East and analyses of Arab satellite television programs, op-ed pages, and public opinion polls to examine the nature, evolution, and influence of the new Arab public sphere. Lynch, who pays close attention to what is actually being said and talked about in the Arab world, takes the contentious issue of Iraq-which has divided Arabs like no other issue-to show how the media revolutionized the formation and expression of public opinion. He presents detailed discussions of Arab arguments about sanctions and the 2003 British and American invasion and occupation of Iraq. While Arabs strongly disagreed about Saddam's regime, they increasingly saw the effects of sanctions as a potent symbol of the suffering of all Arabs. Anger and despair over these sanctions shaped Arab views of America, their governments, and themselves.
Lynch also suggests how the United States can develop and improve its engagement with the Arab public sphere. He argues that the United States should move beyond treating the Arab public sphere as either an enemy to be defeated or an object to be manipulated via public relations. Instead of wasting vast sums of money on a satellite television station nobody watches, the United States should enter the public sphere as it really exists.
---
We Also Recommend