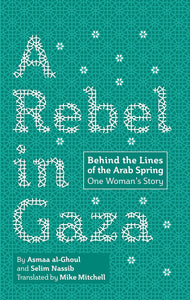 A Rebel in Gaza: Behind the Lines of the Arab Spring, One Woman's Story
Gaza has always been rebellious . . . stubborn, addictive. I'm her daughter, and I look like her.
A Palestinian journalist who grew up in the Rafah refugee camp in Gaza, Asmaa al-Ghoul offers a rare view of a young woman coming into her own political and secular beliefs amidst the region's relentless violence and under Israeli occupation. She has been called "too strong minded," frequently criticized for not covering her hair and for being outspoken. As a journalist and activist, she has led demonstrations and been vocal in her opposition to Hamas and Fatah, which has led her to family strife, imprisonment, brutal interrogations, death threats and attacks.
A Rebel in Gaza is Asmaa's story as told to Franco-Lebanese writer Selim Nassib over the course of the "Arab Spring" through meetings, phone calls, Skype, and even texts during the siege of Gaza in 2014, when Israel conducted Operation Cast Lead in response to several rocket attacks by Hamas and she was locked in the "open air prison" that her homeland had become. Both determined and dedicated to its liberation through writing, education and culture, she paints the sensory portrait of the native country she passionately loves, which over years has become a cauldron of wars and fundamentalism.
Asmaa al-Ghoul (b. 1982) was given the prestigious Courage in Journalism Award by the International Women's Media Foundation and is described by The New York Times as a woman "known for her defiant stance against the violations of civil rights in Gaza."

Selim Nassib (b. 1946), journalist for Libération and novelist is the author of I Loved You for Your Voice and The Palestinian Lover (Europa Editions).
Reviews
Fierce and defiant, Al-Ghoul's book is as much a celebration of Gazan resilience in the face of raging internal and external conflicts as it is of one woman's life-affirming strength of will. An eloquent, provocative, and timely memoir.

–

 
Kirkus Reviews


Debut author Al-Ghoul, a journalist from Rafah, picks apart the paradoxes of being female in Palestine, illustrating in vivid and direct language how Hamas and Fatah, on one hand, and the Israelis, on the other, conspire to restrict acceptable behavior for women in the territory. […] This searching exploration illuminates the crossroads of gender and Palestinian identity.
– 
Publishers Weekly


Refreshing and eye-opening [...] This memoir was a page turner, and I appreciated Asmaa's challenging perspective, her outspokenness and her strength. [...]  I would recommend this memoir to anyone interested in the ongoing conflict in Gaza, or to anyone who wishes to read a thrilling memoir by a strong, brave and inspiring woman living under difficult circumstances.

– Sayeh Hassan,

 
sister-hood
A Rebel in Gaza
 is a love letter to an unloved place [...] a sparkling memoir. [...] Asmaa al-Ghoul, who was born in the Rafah refugee camp at the southern end of the Strip, writes with clarity and tenderness of [Gaza's harsh] realities. [...] Despite it all, she insists: "People continued to laugh in Gaza." Her own laughter bubbles through the pages of 
A Rebel in Gaza
: a stubborn, defiant joy in living, as keen as her rage or her grief.

In a foreword, [Al-]Ghoul writes of her eagerness to avoid "the prevailing clichés" that might confine her narrative. The usual smeary lenses through which the region is viewed are blessedly absent. There are many villains and few heroes, but even the villains are decent sometimes. Ghoul is equally allergic to pieties. In an early chapter, she commits the cardinal heresy of admitting that she has no desire to return to the village from which her grandmother fled in 1948 and considers the refugee camp in which she was born to be her only homeland.


The world would be poorer without [Al-]Ghoul's voice, without her warmth, her fury and her laughter.

– Ben Ehrenreich,

 
The Guardian


Al-Ghoul dares to build bridges, to pierce through propaganda, stereotypes, and bigotry, and to provide multicolored snapshots of a conflict that's too often presented in superficial black-and-white sketches. Her stunning book celebrates women's role in resisting hatred, in affirming life while oppressive patriarchal regimes perpetuate war and death. It's a powerful self-portrait of a woman who refuses to cave, who, in fact, chooses to put on a ruby-colored dress and stand out from the crowd: a rebel

 
from
 

Gaza and

 
for
 

a more just world.

–

 
Women's Review of Books


Al-Ghoul [makes] much of literature's ability to subvert doctrinaire conceptual frameworks. […In so] doing, [she] enables Palestinian society to retain a measure of psychological health. Nothing could be more important, as the sad truth is that the occupation shows no sign of coming to an end.

– Rayyan Al-Shawaf,

 
The Believer
---
We Also Recommend