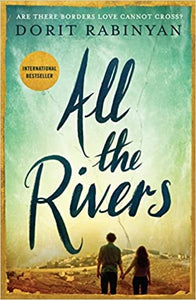 All the Rivers
8000 NIS

80.00 NIS

Save 10 NIS
---
---
A chance encounter in New York brings two strangers together: Liat is an idealistic translation student, Hilmi a talented young painter. Together they explore the city, share fantasies, jokes and homemade meals, and fall in love. There is only one problem: Liat is from Israel, Hilmi from Palestine.

Keeping their deepening relationship secret, the two lovers build an intimate universe for two in this city far from home. But outside reality can only be kept at bay for so long. After a tempestuous visit from Hilmi's brother, cracks begin to form in the relationship, and their points of difference - Liat's military service, Hilmi's hopes for Palestine's future - threaten to overwhelm their shared present. When they return separately to their divided countries, Liat and Hilmi must decide whether to keep going, or let go.

A prizewinning bestseller, but banned in Israeli schools for its frank and tender depiction of a taboo relationship, this is the deeply affecting story of two people trying to bridge one of the most deeply riven borders in the world.
---
We Also Recommend