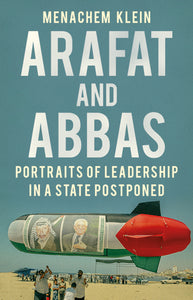 Arafat and Abbas: Portraits of Leadership in a State Postponed
12000 NIS

120.00 NIS

Save 20 NIS
---
---
This landmark volume presents vivid and intimate portraits of Palestinian Presidents Yasser Arafat and Mahmoud Abbas, revealing the impact these different personalities have had on the struggle for national self-determination. Arafat and Abbas lived in Palestine as young children. Uprooted by the 1948 war, they returned in 1994 to serve as the first and second presidents of the Palestinian Authority, the establishment of which has been the Palestine Liberation Organization's greatest step towards self-determination for the Palestinian nation. Both Arafat and Abbas were shaped by earlier careers in the PLO, and each adopted their own controversial leadership methods and decision-making styles.
Drawing on primary sources in Arabic, Hebrew and English, Klein gives special attention to the lesser-known Abbas: his beliefs and his disagreements with Israeli and American counterparts. The book uncovers new details about Abbas' peace talks and US foreign policy towards Palestine, and analyses the political evolution of Hamas and Abbas' succession struggle. Klein also highlights the tension between the ageing leader and his society.
Arafat and Abbas offers a comprehensive and balanced account of the Palestinian Authority's achievements and failures over its twenty-five years of existence. What emerges is a Palestinian nationalism that refuses to disappear.
---
We Also Recommend