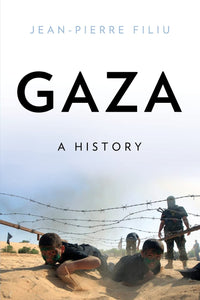 Gaza: A History
Through its millennium–long existence, Gaza has often been bitterly disputed while simultaneously and paradoxically enduring prolonged neglect. Jean-Pierre Filiu's book is the first comprehensive history of Gaza in any language.
Squeezed between the Negev and Sinai deserts on the one hand and the Mediterranean Sea on the other, Gaza was contested by the Pharaohs, the Persians, the Greeks, the Romans, the Byzantines, the Arabs, the Fatimids, the Mamluks, the Crusaders and the Ottomans. Napoleon had to secure it in 1799 to launch his failed campaign on Palestine. In 1917, the British Empire fought for months to conquer Gaza, before establishing its mandate on Palestine.
In 1948, 200,000 Palestinians sought refuge in Gaza, a marginal area neither Israel nor Egypt wanted. Palestinian nationalism grew there, and Gaza has since found itself at the heart of Palestinian history. It is in Gaza that the fedayeen movement arose from the ruins of Arab nationalism. It is in Gaza that the 1967 Israeli occupation was repeatedly challenged, until the outbreak of the 1987 intifada. And it is in Gaza, in 2007, that the dream of Palestinian statehood appeared to have been shattered by the split between Fatah and Hamas. The endurance of Gaza and the Palestinians make the publication of this history both timely and significant.
Reviews
'This history ranks as a masterpiece in the literature of the Arab-Israeli conflict. It tells the facts, explains both sides of the coin and leaves readers to draw their conclusions. … An excellent but sobering book.' — Michael Sheridan, The Sunday Times
'Jean-Pierre Filiu's authoritative and well-sourced history of Gaza from earliest times to the end of 2011 fills a serious gap. Even those who know Gaza well will find much in this book to enlighten them.' — The Independent
'A magnificent piece of historical writing: clear in its exposition, careful in its use of a treasure-trove of new sources and judicious in its analysis of competing political claims to this small and troubled strip of land. It is difficult to see how it will ever be rivalled in terms of scope, intensity and sympathetic understanding.' — Roger Owen, Emeritus Professor of Middle East History, Harvard University
'Jean-Pierre Filiu tells the story of Gaza's modern political history in impressive detail.' — David Shulman, New York Review of Books
'Superbly researched and well written, Filiu's work is essential reading for anyone who wishes to understand contemporary affairs in the Middle East and the relationship between the state of Israel and the Palestinian people.' — Publishers Weekly, Starred Review
'[W]hile the Gaza Strip has always been a crucible for change, there have been few books on the subject; Jean-Pierre Filiu's Gaza: A History fills a gap in the literature. … I have spent the last 30 years researching the Arab-Israeli conflict and I thought that I knew everything worth knowing about the region and the conflict, but it was a pleasant surprise to learn some new things from Filiu's book. Gaza: A History … is an important study which I strongly recommend.' — Ahron Bregman, History Today
'In this thoroughly researched, comprehensive, and deftly written historical account of the Gaza Strip beginning with the Hyksos from 18th century BCE and extending to the present, Filiu … has arguably written the best book on Gaza's history. He shows the historical intricacies between political and military developments and how such processes have shaped the Arab-Israeli conflict. … A must read for students and scholars of the modern Middle East, and anyone who wants to understand Palestinian history.' — Choice
'Based on interviews and hard to find documents, Filiu's book is a remarkable work of scholarship that will long stand as the standard history of Gaza. In a subject area strewn with polemic, the author is objective and level-headed.' — John Calvert, Professor of History, Creighton University, USA
'In this book Jean-Pierre Filiu provides, for the first time and based on unpublished sources, a comprehensive and valuable report on Hamas and PLO Gaza Strip institution-building and the armed struggle against Israeli occupation.' — Professor Menachem Klein, author of Lives in Common: Arabs and Jews in Jerusalem, Jaffa and Hebron and The Shift
'Anyone familiar with Jean-Pierre Filiu's scholarship knows well his talent for taking complex historical processes and bringing their relevance for the present day to the front burner. Never have such skills been more needed than in addressing the still poorly understood history of Gaza. And Filiu succeeds admirably. Providing a wonderful synopsis of a century's worth of history, his discussion of the more direct roots of the present violent dynamics, beginning with the "crushed generation" of the Six Day War and continuing through the travails of Gaza's burgeoning hiphop scene, demonstrates just how historically and culturally rich remains this much abused land. A clear must-read for all those seeking to think outside the existing outdated prisms for studying  history, and the future of Gaza and Palestine/israel writ large.' — Mark Levine, Professor of History at the University of California, Irvine
'Jean-Pierre Filiu is both a scholar of international reputation and a champion of the downtrodden. This book will make you wonder how there could be such a paucity of works on Gaza, despite its centrality to Palestinian history. It will also help the reader better appreciate the plight of Gaza's population.' — Gilbert Achcar, Professor of International Relations, SOAS, University of London
'A clear, well-translated understanding of the history of Gaza. … Filiu states the facts, but also reserves the right to say whose side he is on.' — Chartist
'Filiu's book is the result of intensive research, including archival work, interviews, and consultations with many Palestinians and some Israelis. The author also culled many other sources, both published and unpublished. The final product is impressive and details the history of Gaza from ancient times, though with an emphasis on more recent and even current events. … [A] comprehensive history of Gaza.' — David Sultan, former Israeli ambassador to Egypt, Israel Journal of Foreign Affairs
'In Filiu's formidable history of Gaza, he demonstrates that the current Israeli strategy for Gaza resembles, in every detail, the Israeli strategy deployed in the 1950s, when Hamas was not in existence. One of Filiu's great achievements is to turn the Palestinian population from being victims of Israeli aggression alone to being survivors and fighters for a different future.' — Vijay Prashad, Counterpunch
'The account manages to juggle "official" versions with a genuine feeling for the despair and desperation on the part of the Palestinian refugees, brutal honesty over the duplicity of Egypt and Jordan and the brutality of Zionist militias from kibbutzim on the newly-enforced boundary between Gaza and present-day Israel, including little-known atrocities such as Palestinian girls raped and murdered by Israeli soldiers and refugees dumped in the desert to die of thirst … Gaza: A History is a significant addition to the literature on Palestine, combining as it does in-depth scholarship and a wide range of sources, with a style which is approachable enough to suit the general reader.' — Sarah Irving, Electronic Intifada
---
We Also Recommend