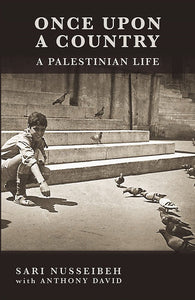 Once Upon a Country: A Palestinian Life
12000 NIS

120.00 NIS

Save 20 NIS
---
---
A teacher, a scholar, a philosopher, and an eyewitness to history, Sari Nusseibeh is one of our most urgent and articulate authorities on the conflict in the Middle East. From his time teaching side by side with Israelis at the Hebrew University through his appointment by Yasir Arafat to administer the Arab Jerusalem, he has held fast to the principles of freedom and equality for all, and his story dramatizes the consequences of war, partition, and terrorism as few other books have done. Once Upon a Country brings rare depth and compassion to the story of his country.
Reviews
"One of the best personal accounts of the Israeli-Palestinian conflict ever written . . . A fascinating and deeply intelligent memoir." ―Ethan Bronner, The New York Times

"There are villains and victims, patriots and fools, war and peace, betrayal and corruption, and an inevitable romance. . . . The book dramatizes recent history in Palestine as few others have done." ―Amos Elon, The New York Review of Books

"Terrific . . . highly recommended for those who want to appreciate the dilemma of the Palestinian democrat." ―Christopher Hitchens, Slate

"A deeply admirable book by a deeply admirable man." ―Leon Wieseltier, The New York Times Book Review

"Once Upon a Country is an often enthralling book, with a lucid unfolding of the issues and subtle analysis of the games played by both sides. . . . This complicated man--shrewd, idealist, pragmatic, dreamer, peaceful warrior---is very much worth knowing." ―Charles Matthews, San Francisco Chronicle

"Captivating . . . Once Upon a Country is a magnificent study of hope under siege." ―Robert Malley, The Washington Post

"A bighearted, admirable, and exceptionally interesting account of Nusseibeh's struggle for an equitable peace in a conflict in which compromise is often interpreted as treason. This is a rare book." ―Jeffrey Goldberg, Los Angeles Times

"Once Upon a Country is a subtle, sad, and humorous memoir that casts a fresh light on the Israeli-Palestinian tragedy and a vivid picture of Palestinian society as well." ―Amos Oz, author of A Tale of Love and Darkness
About the Author
Sari Nusseibeh, a philosopher, was the Palestine Liberation Organization's chief representative in Jerusalem from 2001 to 2002, in which role he advocated a two-state solution to the Israel-Palestine conflict. He is the president of and a professor at Al-Quds University, the Arab University of Jerusalem. Nusseibeh was educated at Oxford and Harvard, and was a Radcliffe Institute Fellow at Harvard for 2004–05. He is the author of two previous books.
---
We Also Recommend