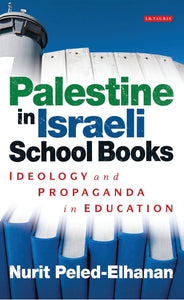 Palestine in Israeli School Books: Ideology and Propaganda in Education
Each year, Israel's young men and women are drafted into compulsory military service and are required to engage directly in the Israeli-Palestinian conflict. This conflict is by its nature intensely complex and is played out under the full glare of international security. So, how does Israel's education system prepare its young people for this? How is Palestine, and the Palestinians against whom these young Israelis will potentially be required to use force, portrayed in the school system?
Nurit Peled-Elhanan argues that the textbooks used in the school system are laced with a pro-Israel ideology, and that they play a part in priming Israeli children for military service. She analyzes the presentation of images, maps, layouts and use of language in History, Geography and Civic Studies textbooks, and reveals how the books might be seen to marginalize Palestinians, legitimize Israeli military action and reinforce Jewish-Israeli territorial identity. This book provides a fresh scholarly contribution to the Israeli-Palestinian debate, and will be relevant to the fields of Middle East Studies and Politics more widely.
---
We Also Recommend