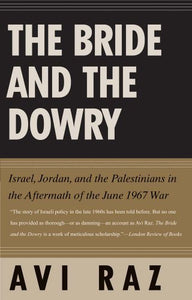 The Bride and the Dowry: Israel, Jordan, and the Palestinians in the Aftermath of the June 1967 War by Avi Raz
14000 NIS

140.00 NIS

Save 20 NIS
---
---
The untold story of Israel's diplomatic maneuvering in the wake of the Six Day War, which frustrated a possible peace settlement

Israel's victory in the June 1967 Six Day War provided a unique opportunity for resolving the decades-old Arab-Zionist conflict. Having seized the West Bank, the Gaza Strip, the Sinai Peninsula, and the Golan Heights, Israel for the first time in its history had something concrete to offer its Arab neighbors: it could trade land for peace. Yet the political deadlock persisted after the guns fell silent. This book asks why.
Avi Raz places Israel's conduct under an uncompromising lens. His penetrating book examines the critical two years following the June war and substantially revises our understanding of how and why Israeli-Arab secret contacts came to naught. Mining newly declassified records in Israeli, American, British, and United Nations archives, as well as private papers of individual participants, Raz dispels the myth of overall Arab intransigence and arrives at new and unexpected conclusions. In short, he concludes that Israel's postwar diplomacy was deliberately ineffective because its leaders preferred land over peace with its neighbors. The book throws a great deal of light not only on the post-1967 period but also on the problems and pitfalls of peacemaking in the Middle East today.
Avi Raz
is a member of the Faculty of Oriental Studies, University of Oxford, research associate at Oxford's Centre of International Studies, and research fellow at Wolfson College, Oxford, specializing in the Arab-Israeli conflict. He was formerly a journalist at a leading Israeli daily, where his assignments abroad included bureau chief in New York and Moscow. He lives in Oxford, UK.
---
We Also Recommend