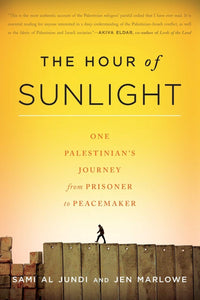 The Hour of Sunlight: One Palestinian's Journey from Prisoner to Peacemaker
12000 NIS

120.00 NIS

Save 10 NIS
---
---
As a teenager in Palestine, Sami al Jundi had one ambition: overthrowing Israeli occupation. With two friends, he began to build a bomb to use against the police. But when it exploded prematurely, killing one of his friends, al Jundi was caught and sentenced to ten years in prison. 

It was in an Israeli jail that his unlikely transformation began. Al Jundi was welcomed into a highly organized, democratic community of political prisoners who required that members of their cell read, engage in political discourse on topics ranging from global revolutions to the precepts of nonviolent protest and revolution.

Al Jundi left prison still determined to fight for his people's rights -- but with a very different notion of how to undertake that struggle. He cofounded the Middle East program of Seeds of Peace Center for Coexistence, which brings together Palestinian and Israeli youth.

Marked by honesty and compassion for Palestinians and Israelis alike, The Hour of Sunlight illuminates the Palestinian experience through the story of one man's struggle for peace.
Starred Review. In this remarkable story of life under Israeli occupation, coauthors al Jundi, cofounder of the Seeds of Peace Center for Coexistence in Jerusalem, and Marlowe (Darfur Diaries) intertwine the personal and the political as they trace al Jundi's evolution from Palestinian militant to peacemaker. As teenagers, al Jundi and two friends joined the PLO, but when a bomb exploded as they were building it, one boy was killed, and the other two badly injured—and on the receiving end of Israeli interrogations and torture. Sentenced to a decade in prison, al Jundi dedicates himself to an extensive education program maintained by the prisoners themselves, ultimately committing himself to nonviolence and to bridging the Israeli-Palestinian divide. The authors successfully convey al Jundi's joys and sorrows, the triumph of his endurance, the complexity of the conflict, and the necessity of dialogue.
A Palestinian kid seething under the occupation, Al Jundi was sentenced at age 18 to 10 years in jail after the bomb he was making went off in his bedroom, killing one friend and injuring another. In prison, he was thrilled to be around other activists; he read the classics, from Dostoevsky to Gandhi and King, the New Testament, the Torah, and the Koran; he became close with a few Jewish Israeli political prisoners and peaceniks; and, eventually, he changed his politics. Then, on his release, in 1999, he established the Seeds of Peace Center for Coexistence in Jerusalem, aimed at bringing Israeli and Palestinian teens together with respect, tolerance, and dialogue. Stark and immediate, with no glib messages, Al Jundi's memoir, written with journalist Marlowe, brings today's headlines very close; he is hopeful about friends, candid about enemies, betrayal, and corruption on all sides. Rooted in the experience of one fighter-peacemaker, this is sure to spark intense debate. --Hazel Rochman
About the Authors
Jen Marlowe is an award-winning documentary filmmaker, author, playwright, and human rights advocate. Her writing can be found online at the Nation, TomDispatch, and WorldFocus.

Sami Al Jundi has spent the last two decades working toward peace and a nonviolent end to Israeli occupation. He lives in the Old City of Jerusalem with his wife and four children.
---
We Also Recommend