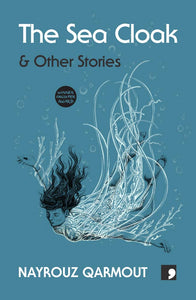 The Sea Cloak: And Other Stories
The Sea Cloak is a collection of 11 stories by the author, journalist, and women's rights campaigner, Nayrouz Qarmout. Drawing from her own experiences growing up in a Syrian refugee camp, as well as her current life in Gaza, these stories stitch together a patchwork of different perspectives into what it means to be a woman in Palestine today.
Whether following the daily struggles of orphaned children fighting to survive in the rubble of recent bombardments, or mapping the complex, cultural tensions between different generations of refugees in wider Gazan society, these stories offer rare insights into one of the most talked about, but least understood cities in the Middle East. Taken together, the collection affords us a local perspective on a global story, and it does so thanks to a cast of (predominantly female) characters whose vantage point is rooted, firmly, in that most cherished of things, the home. 
Translated from the Arabic by Perween Richards.
Reviews
'Nayrouz's tender, moving and confrontational writing is a reminder that it's important to not just know but to feel.' --gal-dem

'Qarmout's writing imparts what is missing in our learning about Palestine and Palestinians: the humanity that is so easily dismissed in favour of information that does more to alienate than foster a connection.' --Middle East Monitor

'These stories are vibrant and accessible, and their strengths lie in their simplicity.' --The Mancunion
The Author
Nayrouz Qarmout is a journalist, author and women's rights campaigner. Born in Yarmouk Refugee Camp, Damascus, in 1984, as a Palestinian refugee, she was returned to the Gaza Strip at the age of 11 as part of the 1994 Oslo Peace Accord, where she now lives. She graduated from al-Azhar University in Gaza with a degree in Economics and currently works in the Ministry of Women's Affairs, raising awareness of gender issues and promoting the political and economic role of women in policy, law, and the media. Her journalism and literary criticism have appeared in numerous newspapers and magazines, such as Alwatan Voice, Maan News, and Palpress (the Palestinian Press News Agency) as well as on TV (Wattan.tv, etc). She has won a number of prizes including the Creative Women's Award for the single story, The Sea Cloak (see above). She has also written screenplays and for several short films.
---
We Also Recommend