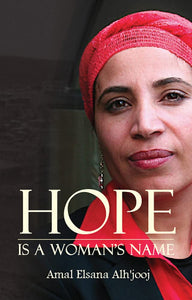 Hope is a Woman's Name
11000 NIS

110.00 NIS

Save 15 NIS
---
---
At birth it was only Amal's father who looked at her and said "I see hope in her face. I want to call her 'Amal'- meaning 'Hope'- in the hope that Allah will give us boys after her."
The fifth daughter in a patriarchal society and an indigenous Bedouin in a Jewish state, Amal Elsana came into this world fighting for her right to exist. Today she is a key shaper of public opinion on Israel's marginalized minorities.

Hope is a Woman's Name tells of Amal's journey navigating interweaving systems of power and oppression - the patriarchal and the nationalist - in her fight for justice and equality. As a shepherd at the age of 5, she led her flock across the green mountains of Laqiya, her village in the Negev in southern Israel, and later ran literacy classes for the women in her tribe in her early teens, the beginning of a lifelong career organizing people to promote policy change for Israel's Bedouin, a minority within the Palestinian minority. She later established economic empowerment programs for marginalized women, helping to found an Arab-Jewish school, and creating organizations to promote shared society. Where others come up against obstacles, Amal builds bridges; not by sacrificing her identity, but by embracing it. Each thread of her identity - Bedouin, Arab, woman, feminist, Palestinian and Israeli - is woven into the tent of her life, a tent where no one is left out in the sun.
About the Author
Amal is a founder of several NGOs, including the Arab-Jewish Centre for Equality, Economic Empowerment and Cooperation, and the recipient of many international prizes. Nominated for the Nobel Peace Prize (2006), she was included in Genius 100 Visionaries of the Future (2017); and awarded the New Israel Fund's Human Rights Award (2013).

Amal has a PhD in Social Work from McGill University and a post-doctorate from the Harvard Kennedy School of Public Policy in the Women Public Policy program.
---
We Also Recommend